$1764 (Updated)
-
One Seven Six Four




- 
Jim Sinclair commented that when gold breaches $1764, it signals the start of Phase 3 of the bull market and the price is expected to go exponential. Gold was around $1660 when the interview was recoded on 5th August 2010 at the GATA conference in London.
-
The $1764 Gold battle line has been drawn, and for the past 24 hours, gold has been repeatedly testing that level for the first time.
-
Looks like we'll know soon enough if gold will close above this critical number.
-
Updated: 11 Aug 2011
Gold indeed closed above that $1764 battle line number last night:
| | |
| --- | --- |
| London PM Fix: | $1772 |
| Comex Close: | $1781 |
| Globex Close: | $1798 |
| HKMEx: | $1775 |
So, if Sinclair is right on this call, as he has often been in the past, expect gold to print some interesting numbers on the charts going forward into phase 3 of the gold bull market. According to James Turk, gold went into Phase 2 when it crossed $1000 around November 2009.
After leading gold since Aug 2010 when the Gold/Silver ratio (GSR) was around 65 until the May 1 cartel-orchestrated price take-down (GSR at 32), silver has been playing catching up lately. 18 minutes into this interview with Eric Sprott, James Turk, founder of GoldMoney commented that he believes silver is still in Phase 1 and will not enter Phase 2 until it crosses $50 (its 1980 high). If you think you're a little late in gold and feeling nervous about jumping into the bandwagon around it's all time nominal high, silver may offer an easier entry point. But as most hard currency adherents would advise, have a healthy ratio between both monetary metals.
Notwithstanding the euphoria of breaking through the much watched "$1764 Gold" number, extreme volatility in both directions for both PMs is to be expected. Gene Arensberg, in his latest Got Gold Report commented that the Large Commercial Net Short (LCNS) position is near its all time high but he can't predict whether these BIG Commercial short sellers will push gold and silver back down or get overrun this time. If it's the former, we'll see another take down. If the latter, the short covering and new buying arising from the flight to safety crowd will cause Sinclair's forecast to be cast in gold!
AC5HKFK2YTJ5
Updated: 12 Aug 2011
Comex gold closes $66/oz off record high as stocks rise, CME increases margins
-Updated August 12
Rate this:
Like this:
Be the first to like this.
Most Popular
Archives

16Oct: Jeff Clark (Casey Research)

$2,300 gold by January 2014

05Sep: Bill Murphy (GATA)

$50 silver by year end

13Aug: James Turk (GoldMoney)

We won't see $1580 gold & $27 silver again

12Aug: Bill Murphy's source

We could see a 100% increase in 90 days.

03Aug: HSBC Analysts

Gold to rally above $1,900 by end 2012

05June: David Bond (SilverMiners)

Gold & Silver may bottom at $1,200 & $18

02June: Don Coxe (Coxe Advisors)

Europe to issue Gold-backed Euro Bonds within the next 3 months

21May: Gene Arensberg (GotGoldReport)

Gold and Silver are very close to a bottom, if one has not already been put in last week

>> More forecasts & forecast accuracy


Featured Videos
German Central Bank pledged to the Fed never to buy gold again
George Soros: His role in major world events as agent of the British Empire, as told by LarouchYouth
Daily GOLD US$/oz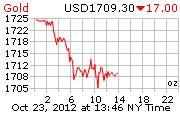 -
Daily SILVER US$/oz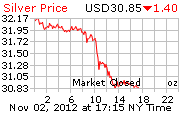 -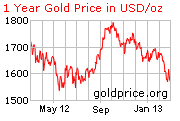 More Gold Charts: 1 Month to 660 Years
-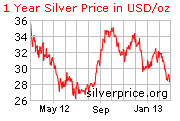 More Silver Charts: 1 Month to 660 Years
-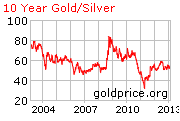 Gold/Silver Ratio: 1 Month to 660 Years
Gold & Silver Priced in BitCoins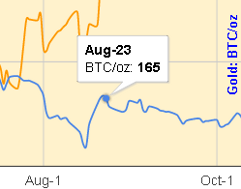 Click to enlarge.
BitCoin donation welcomed.
1NQ4LqE8yL6rfAqikDU8wLhHSm5fntsWxk