$1764
-
One Seven Six Four




- 
Jim Sinclair commented that when gold breaches $1764, it signals the start of Phase 3 of the bull market and the price is expected to go exponential. Gold was around $1660 when the interview was recoded on 5th August 2010 at the GATA conference in London.
-
The battle line has been drawn, and for the past 24 hours, gold has been repeatedly testing that level for the first time.
-
Looks like we'll know soon enough if gold will close above this critical number.
-
Rate this:
Like this:
Be the first to like this.
Most Popular
Archives

16Oct: Jeff Clark (Casey Research)

$2,300 gold by January 2014

05Sep: Bill Murphy (GATA)

$50 silver by year end

13Aug: James Turk (GoldMoney)

We won't see $1580 gold & $27 silver again

12Aug: Bill Murphy's source

We could see a 100% increase in 90 days.

03Aug: HSBC Analysts

Gold to rally above $1,900 by end 2012

05June: David Bond (SilverMiners)

Gold & Silver may bottom at $1,200 & $18

02June: Don Coxe (Coxe Advisors)

Europe to issue Gold-backed Euro Bonds within the next 3 months

21May: Gene Arensberg (GotGoldReport)

Gold and Silver are very close to a bottom, if one has not already been put in last week

>> More forecasts & forecast accuracy


Featured Videos
German Central Bank pledged to the Fed never to buy gold again
George Soros: His role in major world events as agent of the British Empire, as told by LarouchYouth
Daily GOLD US$/oz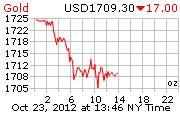 -
Daily SILVER US$/oz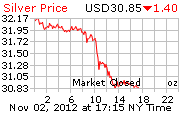 -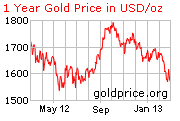 More Gold Charts: 1 Month to 660 Years
-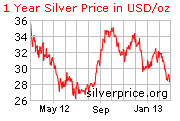 More Silver Charts: 1 Month to 660 Years
-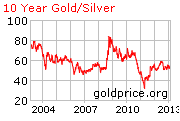 Gold/Silver Ratio: 1 Month to 660 Years
Gold & Silver Priced in BitCoins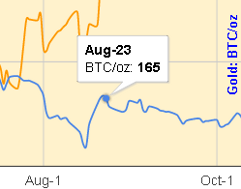 Click to enlarge.
BitCoin donation welcomed.
1NQ4LqE8yL6rfAqikDU8wLhHSm5fntsWxk