Eric Sprott: The Government Lied… There is No More Silver!
Archives

9May: Eric Sprott (Sprott Asset)

Gold over $2000, Silver over $50 by year end

6Apr: John Emry (Sprott Asset)

Gold Downside-$1600, Upside- Thousands

4Apr: Dennis Gartman (Gartman Letter)

Gold 10-year bull run is over since Aug 2011

4Apr: Edel Tully (UBS)

Gold down to $1550 over the next month

3Feb: Marc Faber (Gloom Boom Doom)

Gold may not exceed $1922 this year

19Jan: Jim Sinclair (JSMineSet)

QE3 in 2012. Gold between $1,700 & $2,100

>> More forecasts & forecast accuracy


Featured Videos
Hugo Salinas Price: Saving The Monetary System. Saving in gold & silver is a defensive measure, not a productive measure.
Charlie Munger: Civilized people don't buy gold. Gates, Munger & Buffett in the same camp.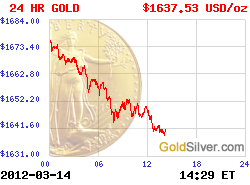 -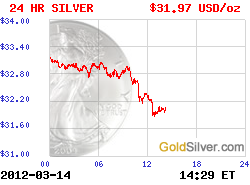 -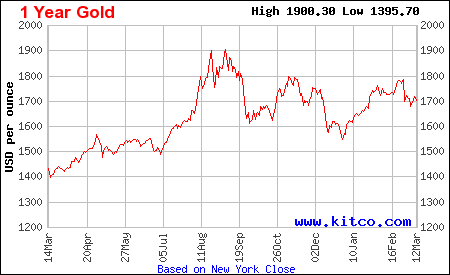 More Charts: 1-Month, 1-Year, 5-Year, 10-Year
-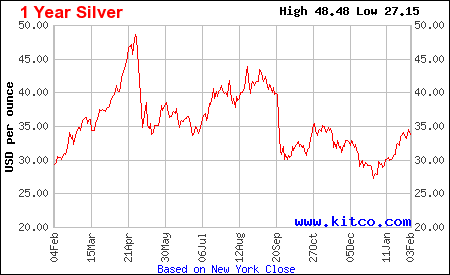 More Charts: 1-Month, 1-Year, 5-Year, 10-Year
-
1-year Gold/Silver Ratio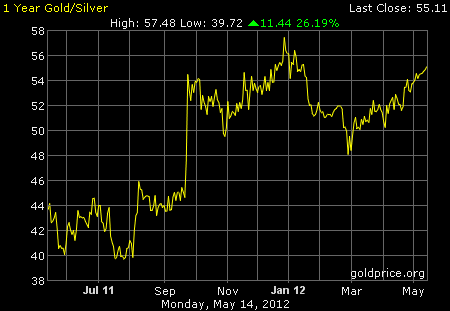 More Charts: 1-Month, 1-Year, 5-Year, 10-Year