Posts Tagged 'GoldMoney'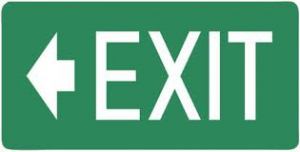 In recent times, major institutions are running to the EXIT. The most famous of which was how The University of Texas Investment Management Company took delivery of almost $1 billion in gold bullion, and that's because
"Central banks are printing more money than they ever have, so what's the value of money in terms of purchases of goods and services," Bass said today in a telephone interview. "I look at gold as just another currency that they can't print any more of".
Groups of nations are running to the EXIT. I highlighted one of the more significant runs in this post Another new writing on the wall - BRICS dump the USD.
Brazil, Russia, India, China and South Africa – the BRICS group of fastest growing economies – Thursday signed an agreement to use their own currencies instead of the predominant US dollar in issuing credit or grants to each other.
Yesterday, it was reported that Mexico saw smoke coming from her northern neighbour and headed for the exit, big time! Considering how many other nations (China, Russia, Thailand, Belarus, Bangladesh, Venezuela, Tajikistan, Ukraine, Jordan, Philippines, South Africa, Sri Lanka, Germany, Kazakhstan, Mexico, Greece, Pakistan, Belgium, Czech Republic, Mauritius and Malta) have been running towards the exit since 2009, Mexico's Central Bank wasted no time to catch up, as illustrated by this very pretty chart.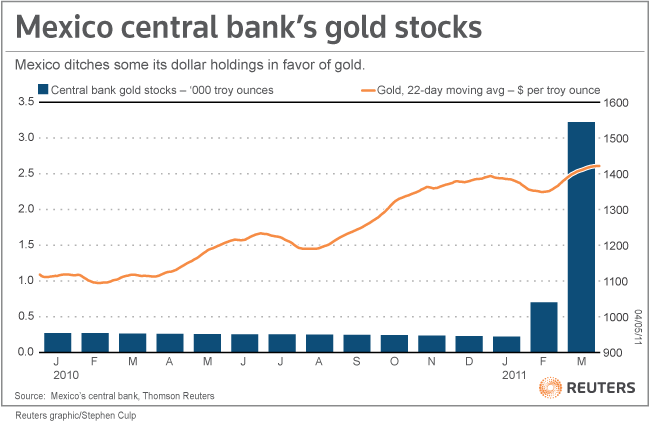 -
MEXICO CITY, May 4 (Reuters) - Mexico massively ramped up its gold reserves in the first quarter of this year, buying over $4 billion of bullion as emerging economies move away from the ailing U.S. dollar, which has dipped to 2-1/2-year lows.

The third biggest one-off purchase of gold by any country over the past decade took Mexico's reserves to 100.15 tonnes - or 3.22 million ounces - by the end of March from just 6.84 tonnes at the end of January, according to the International Monetary Fund and Mexico's central bank.

…… Credit Suisse precious metals analyst Tom Kendall said it was worthy of note that Mexico, whose economy is very closely tied to the United States, had taken this step.

"The size (of the purchase) is certainly pretty chunky to have been accomplished in that space of time. So it certainly gives another sizable layer of support to gold's position in the international reserves system," he added.

George Milling-Stanley, managing director of government affairs at the World Gold Council industry group, said Mexico was following a recent trend among central banks to restore a "prior balance between gold and currency reserves."

"This is further supported by the fact that the May IMF numbers show continued buying by Russia and Thailand of 18.8 tonnes and 9.3 tonnes respectively," he added.

Mexico's reserves rank it 33rd among the top official holders of gold. The United States is the largest official holder of gold, with 8,133 tonnes, which account for 73.8 percent of its total international reserves.

China is the sixth largest holder of gold, with 1,054.1 tonnes, or just 1.6 percent of total reserves, while eighth-ranked Russia now has some 811 tonnes of gold, up from 788.78 in January, according to the IMF data.

Silver, which hit a record price earlier this year, may also have been on Mexico's buying list, said Martin at HSBC.
Going back to November last year, recall how China Daily reported that
"China and Russia have decided to renounce the US dollar and resort to using their own currencies for bilateral trade, Premier Wen Jiabao and his Russian counterpart Vladimir Putin announced late on Tuesday."
Well, just as Mexico was reported playing catching up yesterday, Japan and South Korea did not want to be left behind in the multi-lateral Dump USD game either. WSJ reported:
May 3, HANOI—Finance ministers from China, Japan and South Korea said in a joint statement Wednesday they have agreed to start studying the use of their own currencies in trade settlement, the latest sign of Asian efforts to reduce dependence on the U.S. dollar.

The ministers from the three big Asian economies also said they are "mindful of" challenges such as growing inflationary pressures in Asia, rising global commodity prices and increasingly volatile capital flows into the region.
Blocks of Nations, individual nations, institutions, and individuals are all heading to the EXIT sign or have already exited the world reserve [paper] currency. They are doing so because the writing is already on the wall. The "Waterfall Decline" event that James Turk, founder of GoldMoney predicts seems to be approaching fast. They exit because they've lost confidence in the once almighty USD.
But, if the exit is into monetary metals gold and silver, why are we witnessing the sudden "Waterfall Decline" in the monetary metals instead of the USD? The only sane way to look at this insane price action is to understand that they are Political Metals whose prices are being manipulated by political powers through their Gold and Banking Cartels. The best way to exit your paper currency is to hold gold and silver, not invest in them. View them as owning another currency rather than buying them as an investment.
Related Reads:
and many other articles throughout this site and blog
Like this:
Be the first to like this.
Most Popular
Archives

16Oct: Jeff Clark (Casey Research)

$2,300 gold by January 2014

05Sep: Bill Murphy (GATA)

$50 silver by year end

13Aug: James Turk (GoldMoney)

We won't see $1580 gold & $27 silver again

12Aug: Bill Murphy's source

We could see a 100% increase in 90 days.

03Aug: HSBC Analysts

Gold to rally above $1,900 by end 2012

05June: David Bond (SilverMiners)

Gold & Silver may bottom at $1,200 & $18

02June: Don Coxe (Coxe Advisors)

Europe to issue Gold-backed Euro Bonds within the next 3 months

21May: Gene Arensberg (GotGoldReport)

Gold and Silver are very close to a bottom, if one has not already been put in last week

>> More forecasts & forecast accuracy


Featured Videos
German Central Bank pledged to the Fed never to buy gold again
George Soros: His role in major world events as agent of the British Empire, as told by LarouchYouth
Daily GOLD US$/oz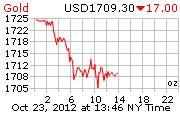 -
Daily SILVER US$/oz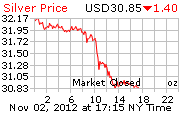 -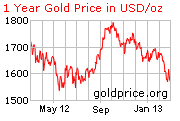 More Gold Charts: 1 Month to 660 Years
-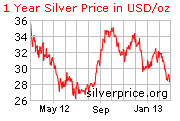 More Silver Charts: 1 Month to 660 Years
-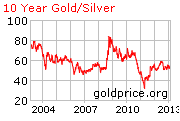 Gold/Silver Ratio: 1 Month to 660 Years
Gold & Silver Priced in BitCoins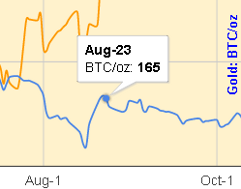 Click to enlarge.
BitCoin donation welcomed.
1NQ4LqE8yL6rfAqikDU8wLhHSm5fntsWxk