Posts Tagged 'NASA'
After 8 years of planning, 8 months of space flight covering 566 million km and performing flawlessly throughout its "7 Minutes of Terror", Curiosity landed right on time and on the spot inside the  Gale Crater, Mars at 0530 GMT, August 5.
This nuclear powered rover, about the size of an SUV is loaded with the most-sophisticated instruments ever used off Earth. The Mars Science Laboratory will keep hundreds of scientists and engineers busy over the next Martian year (23 earth-months) as they assess whether the landing area has ever had or still has environmental conditions favorable to microbial life.
Now, this is rocket science, and how much does it cost? A mere $2.5 billion! That's loose change or a rounding error when compared with the thousands of billions created out of thin air to bailout banksters and Wall street gamblers. On the one hand, we have people gambling with financial derivatives to the tune of hundreds of trillions of dollars, creating massive illusionary wealth for themselves when they win while burdening the masses with trillions in bailouts when they lose. On the other hand, we have these heroes of modern civilization building real things, doing real science, creating new technologies - all real, physical stuff working on shoe string budgets with constant threats of further budget cuts:
In the Obama Administration's budget request for next year, which was unveiled last month, NASA planetary science suffered a 21 percent cut, compelling the agency to scale back its robotic exploration efforts and drop out of two future European-led Mars missions entirely. space.com
Dear Obama, Geithner & Bernanke,
Would you consider passing over some of your money printing loose change to these good folks over at NASA, and maybe, just maybe, you get the right to set up your first Federal Reserve central bank on Mars to propagate your fraudulent fractional reserve banking system on the red planet and beyond. Remember, there will be be a few humans over there in the not too distant future. You want to be the first to suck their blood dry, don't you?
-
-
-
-
-
-
-
-
-
-
Bailouts for the banksters in 2008 alone could fund over 680 of these incredible missions!
-
Updated:  Aug 7
Watch Lyndon Larouche's take on the significance of the Curiosity landing. "This is a vindication for mankind and science versus Obama!"
-
Like this:
Be the first to like this.
-
The Race to Debase
Monitoring the Currency Wars
Most Popular
Archives

05Sep: Bill Murphy (GATA)

$50 silver by year end

13Aug: James Turk (GoldMoney)

We won't see $1580 gold & $27 silver again

12Aug: Bill Murphy's source

We could see a 100% increase in 90 days.

03Aug: HSBC Analysts

Gold to rally above $1,900 by end 2012

05June: David Bond (SilverMiners)

Gold & Silver may bottom at $1,200 & $18

02June: Don Coxe (Coxe Advisors)

Europe to issue Gold-backed Euro Bonds within the next 3 months

21May: Gene Arensberg (GotGoldReport)

Gold and Silver are very close to a bottom, if one has not already been put in last week

9May: Eric Sprott (Sprott Asset)

Gold over $2000, Silver over $50 by year end

>> More forecasts & forecast accuracy


Featured Videos
Finding Silver: For a change, forget about the politics and financial aspects of silver. Let's appreciate the science & the engineering behind that beautiful silver coin.
High Frequency Trading: You can get in easily. "Getting out is the problem" David Greenberg, former NYMEX board and executive committee member. Paper gold & silver markets are dominated by HFTs.
Daily GOLD US$/oz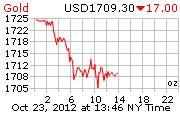 -
Daily SILVER US$/oz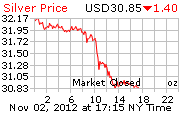 -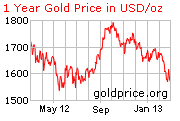 More Gold Charts: 1 Month to 660 Years
-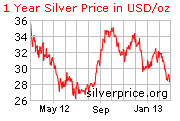 More Silver Charts: 1 Month to 660 Years
-