The Race to Debase. Competitive Devaluation of Global Currencies
Monitoring the progress of debasement as they unfold; Country by country, currency by currency. Nations turn red on this map when their central planners announce policies to debase, either directly (eg. monetization of debt) or indirectly (eg. interest rate reduction, bank reserve ratio reduction, etc).
Mouse over the red nations & click for details
The race to debase. Competitive devaluation of global currencies entered it's last lap with the coordinated actions of major central banks. The ECB took off on September 6 with the announcement of unlimited purchase of government bonds. According to Bundesbank President Jens Weidmann,  the bond program is "tantamount to financing governments by printing banknotes".
Not to be left behind, Federal Reserve Chairman Ben S. Bernanke announced a $40 billion per month purchase of agency mortgage-backed securities (MBS) on September 13. Unlike previous QE programs, both these money printing operations are open ended.
Six days later, the Bank of Japan said it would expand its asset purchase program by ¥10 trillion to about ¥80 trillion to boost its slowing economy.  All eyes now are on China, the UK and other major economies. The race is on, and it cannot stop until fiat currencies die, as they always do, resulting in hyperinflation (The Hanke-Krus hyperinflation table & how it looked liked in Zimbabwe).
Competitive devaluation or "Currency War" is more of a process than an event. Nations take turn to debase, back and forth, until the purchasing power of their currencies approaches zero. Of course the war has been on-going for a very long time; This map tracks when the first salvo was fired since Sep 6, 2012, the day we enter the last lap.
As fiat currencies the world over debase against each other, they also debase against gold & silver - the recognized form of money for millennia, until that fateful day on August 15, 1971. These two tables tell the whole story eloquently. Click tables for full list.
-
Real time gold & silver in major world currencies available here
-
---
-


On The Radar Screen


-
4 Oct 2012 Bank of England's Monetary Policy Committee (MPC) has decided at its monthly meeting not to introduce any new stimulus measures. It has kept interest rates at their record low of 0.5% and not to raise the amount of quantitative easing (QE) from the current level of £375bn. Thomas Paterson, chief economist at Gold Made Simple thinks the next round of QE may come in November/December and argues why it will have no effect in "stimulating" the economy. The chart below clearly shows how the most recent 3 out of 6 QEs since the financial crisis failed to lift the GDP.  More at GoldMadeSimple.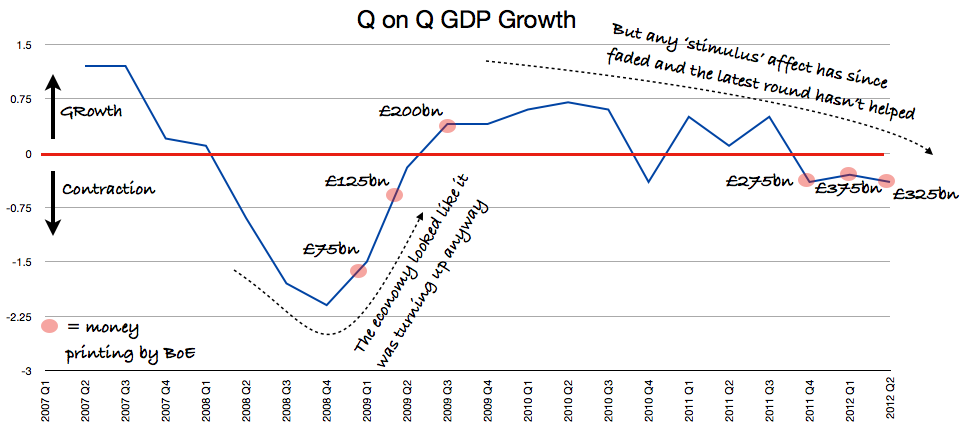 -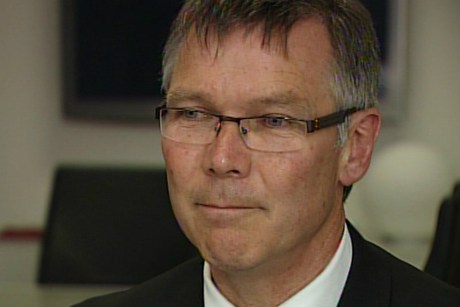 22 Sep 2012 New Zealand First leader Winston Peters launched a Private Members Bill that would broaden the Reserve Bank's role so that it could intervene to cheapen the NZ dollar when necessary. The bill has the support of Labour party. "It was very important at the time to focus solely on inflation, but at the moment we face competitive devaluation abroad. This is hurting our exporters – ordinary New Zealanders who are losing their jobs and leaving to Australia as a consequence" says Labour Finance spokesman David Parker.
Barely one week after the statement, the Reserve Bank of Australia beat them to the race by cutting interest rates for precisely the same reason - to cheapen the Aussie Dollar to help exporters. Read more at 3News
---
-




Chronological order of debasements since Sep 16, 2012
-
| | |
| --- | --- |
| | Oct 02, 2012 The Reserve Bank of Australia cuts interest rates by 25bps today to 3.25 %, almost as low as  the level reached at the height of the global financial crisis. Reason? Trade deficit reached the widest since 2008. Weaker Aussie needed to boost exports. Unlike the US or UK, where interest rates are already near zero, Australia can continue fighting debasement via interest rate cuts instead of direct QE.  Gold:$1,771 Silver:$34.66  ^Back to top |
| | |
| --- | --- |
| | Sep 19, 2012 Japan's central bank has joined the Fed and the ECB in new emergency stimulus measures that together could spark a currency war with other nations. The BoJ would expand its asset purchase program to about ¥80 trillion to boost its slowing economy. Gold:$1,771 Silver:$34.66  ^Back to top |
| | |
| --- | --- |
| | Sep 13, 2012 The Fed announced it would purchase agency mortgage-backed securities (MBS) at a pace of $40 billion per month until the labor market improves substantially. This open-ended QE3 program is in addition to existing easing policies. Gold:$1,769 Silver:$34.68  ^Back to top |
| | |
| --- | --- |
| | Sep 6, 2012 European Central Bank President Mario Draghi announced an unlimited bond- purchase program to regain control of interest rates in the euro area and fight speculation of a currency breakup. It is an open-ended QE program. Gold:US$1,700 Silver:32.72  ^Back to top |
-
-
-
-
-
-