Compare AFE, BullionVault, GoldMoney
| How to Buy & Store | AFE Review | BullionVault Review | GoldMoney Review | Fees  Summary |
-
Comparative summary of AFE, BullionVault & GoldMoney

Each has its unique set of features and strengths, all of which are not present in any single provider. It is prudent to spread your holdings across multiple service providers for more efficient management of your entire portfolio. Click the logos for detailed reviews.
Updated: 8 Sep 2011

Bullion Products

Gold, Silver

Gold, Silver

Gold, Silver, Platinum, Palladium

Bullion Account Type

Allocated Account

Allocated Account

Allocated Account

Vault Locations

Zurich

Zurich, London, New York

Zurich, London, Hong Kong

Vault Operators

Via Mat International

Via Mat International

Via Mat International, G4S

Currencies Supported


USD, EUR, Special Instructions


USD, EUR, GBP

USD, CAD, EUR, GBP, CHF, JPY, AUD, HKD, NZD
Buy / Sell, Storage &
Other Fees (Details here)


Highest Overall


Lowest Overall


Highest for Small Holdings

Reserved / Registered Bars

Automatic: Gold & silver

Manual: Gold & silver with fees

Manual: All metals except silver

Take Physical Delivery

Fees upon application

Discouraged.  High fees

Easy & transparent (esp. gold)

Buy & Sell Mechanism

Slow and inconvenient

Excellent software, realtime

Simple, no advanced features
Open Account, Verification
and initial Funding


Slow and inconvenient


Super easy & fast


Quite elaborate

Account Management

Slow and inconvenient

Efficient, but restrictive

Simple & convenient

Web Security

Basic

Enhanced

Comprehensive

Web Traffic Rank (1=Best)

1,870,643 (9 Sep 2011)

19,901 (9 Sep 2011)

17,677 (9 Sep 2011)

Audited Gold Holding (oz)

Not Published

782,453 (8 Sep 2011)

578,642 (30 Jun 2011)

Audited Silver Holding (oz)

Not Published

6,807,824 (8 Sep 2011)

24,284,835 (30 Jun 2011)

Corporate & Governance

Most established

Transparent & responsible

Transparent & very reputable


Client Relations

Professional, Personal

Poor, too dependent on tech.

Professional, Excellent
Overall
Suitable for
Savings, Long Term Holding
Active Trading
Most Users
-
Alexa Traffic Rank: GoldMoney Vs BullionVault
Updated: 01 February 2012
This chart compares the popularity of GoldMoney.com and BullionVault.com based on global web traffic to their respective sites. The Alexa Rank is calculated using a combination of average daily visitors and pageviews over the past 3 months. The site with the highest combination of visitors and pageviews is ranked #1. Anglofareast.com's traffic is not presented because it's ranking is too low (over 1 million).
The above data shows that GoldMoney's popularity ranking has increased dramatically from about 100,000 to current rank of 18,184 surpassing BullionVault's historically higher ranking, currently at 24,302.
-
Growth of Bullion Holdings: GoldMoney Vs BullionVault
(See notes on data source below)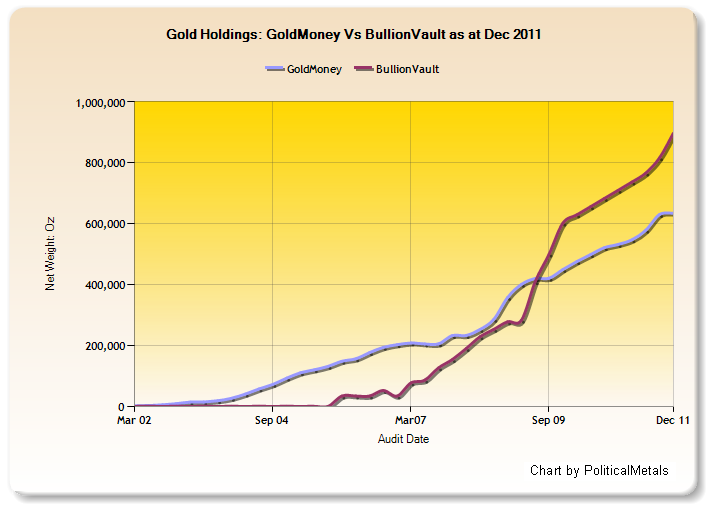 BullionVault's gold holding has surpassed that of GoldMoney, which has been the leader until 2009
-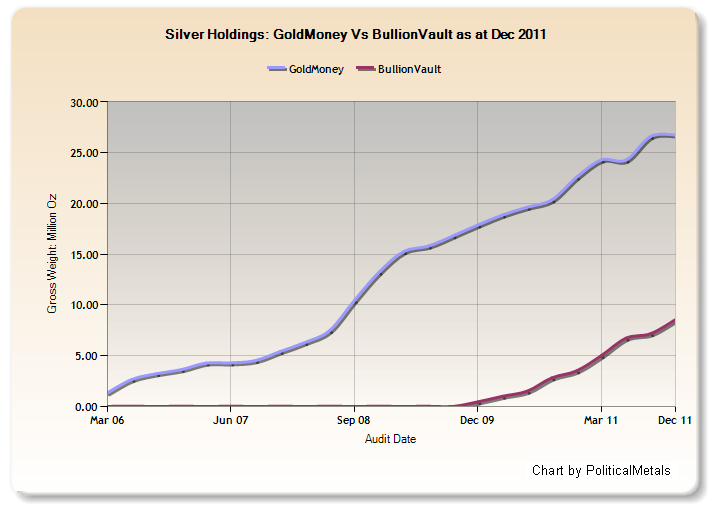 BullionVault did not offer silver bullion until 2009, giving GoldMoney a commanding lead.
-
Notes on data source
GoldMoney publishes quarterly audit reports, and they are archived here.
BullionVault publishes daily audit report here, but they do not maintain a public archive. Data for the charts above was obtained from WayBack Machine Internet Archive, which periodically scans the web and takes a snap shot of sites at that point in time. As the frequency of scanning is inconsistent, BullionVault's plot has fewer data points and they are fitted into the closest quarterly audit dates of GoldMoney's data points. Beginning Sep 2011, data are derived from BullionVault's daily audit reports via RSS feeds.
GoldMoney holds Palladium and Platinum as well, but they are not included in the charts as we do not consider them political metals, and they constitute only about 1% of their total metal holdings.
No comparisons can be made with AFE as they do not publish their audit report details. Only a certificate of audit is published and accessible after login.
-
Please post your comments & share your experience, especially  if you've used any of these bullion custodian services. Thanks.
Disclaimer: The above information is provided on a best-effort basis. It's accuracy is not guaranteed, and may not reflect the most recent changes made by the service providers. Please perform your own due diligence and verify the information from their respective websites before making any decisions. The reviews are the personal opinion of the author and does not constitute any endorsement or recommendation.