While the Printing revs up, the Minting grinds to a halt
Silver demand and signs of physical silver shortages.
CommodityOnline reported that for the first time, China's net imports of silver hit a record high as it quadrupled in 2010 to 3,500 tonnes (112 Million ozs). Precious metals analysts view this as a shift in the Chinese demand for silver as traditionally China used to be a silver exporter.
For instance, in 2005, China made net exports of 3,000 tonnes of silver. In five years, the exporter of silver has become the importer of silver. This shows that Chinese demand for silver is soaring. - Lee Kui, a precious metals dealer in Beijing
Dave Madge of the Royal Canadian Mint spoke to Eric King of King World News about silver shortages at the mint.
Demand right now for silver is through the roof and it shows no signs of slowing at this point.  Sourcing silver is becoming very difficult.  We are competing with a great many players when it comes to purchasing silver and many of these players are bidding the price higher.

We are anticipating it to become even more difficult to secure supplies in the future.

I think you are going to see the premiums go up in order to secure silver.  At some point some players will be priced out of the market.  I don't think this is a short-term situation, I think there are a lot of issues going forward and this may be the new norm.
We could have sold more, …..the mint would boost production to 2.2m ounces in February and March.  - Andrea Lang, marketing director.
It took Sprott Asset Management 2 months to obtain full physical delivery of 22.3 million ounce (694-tonne) for the new Sprott Physical Silver Trust (NYSE ARCA:PSLV). As of November 10, 2010, the Trust had contracted to purchase a total of 22,298,525 ounces of silver bullion. As of December 31, 2010 a total of 20,919,022 ounces of silver bullion had been delivered to the Trust. The Trust expects to take delivery of the final 1,379,503 ounces of silver bullion by January 12, 2011 and will subsequently publish the serial numbers of all bars held by the Trust on its website: www.sprottphysicalsilver.com
Frankly, we are concerned about the illiquidity in the physical silver market… We believe the delays involved in the delivery of physical silver to the Trust highlight the disconnect that exists between the paper and physical markets for silver - Eric Sprott, Chief Investment Officer of Sprott Asset Management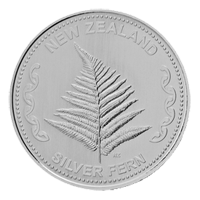 Now for the small fry story. I ordered a small quantity of 1oz NZ Silver Ferns coins from the NZ Mint on November 12,  2010 (Just 2 days after Eric Sprott!). Was promised delivery within 3-4 weeks. Received partial shipment of about 3/4 of the order on December 10. It was not until January 21, 2011 that the balance was shipped - about 2 1/2 months after full payment for a tiny order. That's how tight the physical market is. Currently, bids for the same coin at trademe (NZ equivalent of ebay) is in excess of NZ Mint's offer price.
-