Chinese Gold
Chins's Gold Investment Demand Overtakes India.

Gold imports by China may increase after investment demand more than doubled in the first quarter, with the country overtaking India to become the largest market for gold coins and bars, the World Gold Council said.
---
Chins's Gold Investment Demand Overtakes India.

This chart shows how China's demand for gold jewelry has increased from just over 500,000 ounces in the late 1980s to over 12 million ounces at the end of 2010, in spite of gold going from $200 to $1,000 and now $1,500 an ounce.
---
Chins's Gold Investment Demand Overtakes India.

This chart shows Chinese citizens' gold investment as a savings. The total amount of household savings invested in gold has grown from about $200 billion in the late 1990s to $1.2 trillion in 2010. In fact, the total savings invested just during the first quarter of 2011 is equal to the total amount invested in 2004, and more than the previous six years.
---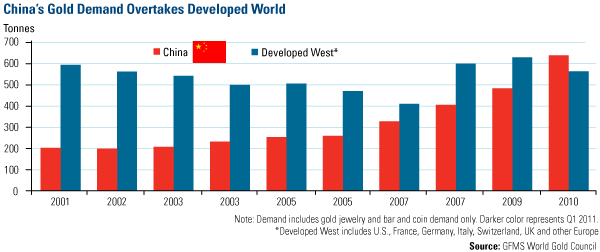 For the first time, the demand for gold in China was so strong it outpaced the combined total of the developed West during 2010. If you lump together the gold demand of the U.S., France, Germany, Italy, Switzerland, the U.K. and other European countries, the sum of these countries is still outpaced by China. That's despite triple-digit increases in demand from France, Germany and Switzerland.
---
-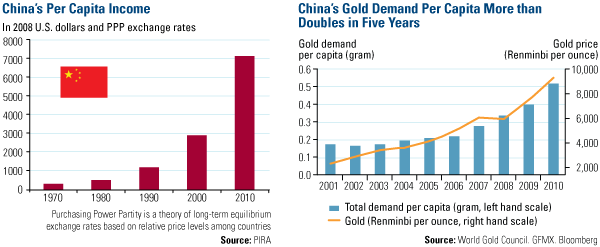 The rise in gold prices and consumption has coincided with a dramatic rise in China's per capita incomes. The chart on the left shows that per capita incomes in China have risen from around the $3,000 level in 2000 to roughly $7,000 in 2010. This means that the average Chinese citizen has over twice the income he or she did in 2000. Today, China is second only to the U.S. with a middle class population of 157 million people, according to the Organization for Economic Co-operation and Development (OECD).
The chart on the right shows, at least in part, what many have chosen to do with that additional money—buy or invest in gold. On a per capita basis, per capita consumption of gold in China has more than doubled since 2005.
Despite this strong rise in per capita consumption, an analyst from Standard Chartered Bank said that there is still much room to grow, "In terms of gold consumption per capita, there is no doubt that [China and India] have a lot of catch-up potential and the impact on gold prices could be dramatic."
Source: Bloomberg & U.S. Global Investors