Bullion Bank Run - Pressure from the Top and Bottom
-
The largest physical movement of gold in recent history is under way.
Hugo Chavez, Venezuela's President wants to move his country's 211 tonnes of gold (over $12B at Friday's close) currently stored in American & European banks back to Caracas.
Major upward moves in gold prices over the past couple of years have been tied to central banks' activities in the gold market, like the big purchases by India, China & Russia.
However, this recent move by Venezuela is rather unique. Instead than buying more gold, Venezuala merely wants to repatriate what is already hers. Unlike central bank purchases, which could involve just a ledger entry, this is the real thing. Physical gold is being moved around. What's more significant is the discovery that after accounting for the 99 tonnes and 11.2 tonnes being held at the Bank of England (BoE) and Bank of International Settlements (BIS) respectively, about half of this huge stash are held in bullion banks like JP Morgan Chase et al - all major gold shorts. The move has left them scrambling for the real stuff.
This has led many to believe that the "Golden Retrieval" may have been a contributing factor to the most recent spike in gold price. It hits at the core of what GATA has been highlighting for over a decade - that bullion banks have been working hand in glove with central banks to suppress the price of gold, and that much of the physical gold at bullion banks and central banks are encumbered, leased or sold many times over, resulting in multiple claims for each bar of physical gold.
Bullion Bank Run - Pressure from all sides
When a major "client" like Venezuala suddenly decides to take physical possession of her gold, it may cause a run on the bullion banks, not unlike the much feared bank run for cash. Bank runs start when depositors begin to lose confidence in the banks holding their cash. All it takes is a a few large depositors withdrawing at the same time, thereby creating the initial stress in the fractional reserve banking system. Soon, the panic hits the masses and long lines form outside the banks.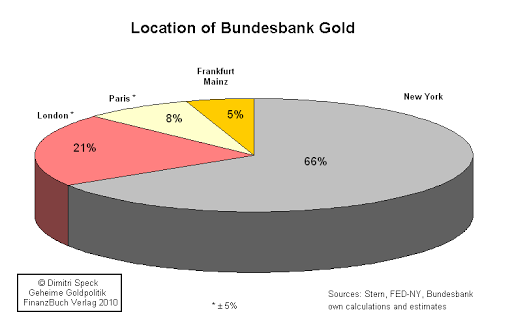 We have to depend on what the west often refers to as rouge nations - and there are good reasons to believe that there are several out there in a position to take the cue from Venezuala. That's because it is common practise among central banks to hold their gold outside their countries at "trading centers" where the bank conducts "its gold activities" - according to a report by GATA citing a comment from Bundesbank. Take a look at this list and see how many potential rouge nation triggers you can spot among the larger holders of gold. As highlighted by Adrian Salbuchi in the video above, there is a political element to Chavez's radical decision. I can see several rouge nations in that list having similar political motives.
With increasing awareness that the perils of wars, global poverty and social injustice can be attributed in part to our present fraudulent monetary system, there have been many calls to help speed up the inevitable demise of the failed experiment to run a global economy on a debt-based monetary system. All adopt the common strategy of advocating the purchase of physical gold & silver (especially the latter) to protect oneself financially while helping to create stress in the supply of physical bullion to bring down the banking cartel. They include:
The set up before us is interesting. While the masses apply pressure from the bottom, we have the deep pocketed boys, institutional investors and money managers primed to move big time money into gold & silver following the recently concluded GATA's Gold Rush 2011 London conference.  That's pressure from the middle. Now, with the likes of Venezuala starting to apply pressure from the very top, we may see the tipping point for a bullion bank run soon.
-
Updated:
Aug 22, 2011
Libya Down: The link between Libya's swift regime change, its 144 tonnes of gold & Venezuela's gold repatriation.
Related Articles:
-