Disconnect Between Paper & Physical Prices And What We Can Do About It.
Since the recent price take down, we're inundated by stories of retail buyers not being able to buy physical coins and bars at the ridiculously low spot prices painted by the paper futures markets. For those fortunate enough to get their hands on any physical bullion, it will be at relatively large premiums over spot with long delivery lead times. The disconnect is growing with each dramatic take-down..
"Sold Out"
KH of InvestSilverMalaysia reported that,
Back in Malaysia, it has been a wild ride. With the recent collapse of gold & silver prices, PM suddenly becomes very hot. Lowyat is having comments like 5 pages/per day ever since that crash. Physical silver bullion dealers are not selling. They are either: holding up the stock or, stock have been completely drained. Replenishing takes 2-3 wks. Even so, many bigger supplier from the states are having the same problem too! Too many orders! I am guessing even those at the top of the food chain are having problem processing massive orders. Many smaller local websites just shut down - refusing to take orders. 1cheapsilver has yet to recover from that 26-dollar-fall. It is really a war zone here.
Here's what greeted him at UOB when he personally went there to buy his gold bullion. Read his story here.
Here's another story along the same line from the UAE, courtesy of ArabianMoney.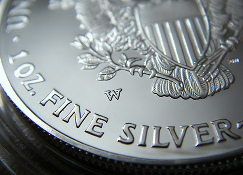 Several readers of ArabianMoney have written to us over the past two weeks to express their astonishment at the current price of silver because demand where they live is so high that stocks have run out.
Consider this comment: 'I used to buy silver from a shop in Kobar in Saudi. From the last four weeks they said they ran out of silver. I cannot find anyone who sells silver in Saudi now. I asked them from where do they get their silver. They said the UAE. The problem is they only have 1kg bars…and I still cannot find any supplier.'
No stock
Well don't bother coming to the UAE. Our information is that the 1kg bars mentioned here and featured in a video on the website last month (click here) are all sold out too. We've also had feedback about low or no stock in Texas and Australia from big private bullion dealers there.
Now what would normally happen when a commodity is in short supply is that the price would go up to encourage sellers to put some more into the market. That is presently not happening because the silver price is being artificially suppressed in the Comex futures market by the bullion banks acting on instructions from the Fed presumably, so why would you sell that silver cheaply if you happened to own some?
But something has to give and it is the price of physical silver rather than the Comex price of the shiniest of metals. If you can find any silver these days you will pay quite a substantial premium over the spot price. But pay it because that is probably still a bargain compared to where silver prices are going.
The truth is that silver is a rare metal, more rare than gold. Silver reserves have been estimatated at one-hundredth of gold reserves. Silver is after all consumed by industrial processes and reserves have dwindled over the years because the price has been kept so low for so long by market manipulation. Why is that?
Silver price fixing
This market manipulation dates back to the last silver boom of the late 70s and the spectacular $50 spike in the price in 1980. The central banks then saw suppression of the silver and gold price as a part of their war on inflation. They clearly lost that war but kept gold and silver prices down until this decade.
Thirty-one years later and we are still not back to those silver prices despite a seven-fold increase in the global money supply. On that reckoning silver ought to be $350 an ounce, not $30 today.
However, the snap back for silver prices now has the capacity to be sensational, and far beyond the mini-spike in the first few months of this year from $30 to almost $50 again. So those who go seeking out physical silver to buy at current prices are going to be very well rewarded and soon, not in 31 years!
ArabianMoney continues to stick with silver as our top tip for 2011 (click here) and that means a big rebound in the price before the end of the year.
-End-
.. and watch what the Chinese are doing
-
It is evident from the stories above that trying to catch the absolute intermediate bottoms during corrections and expecting to buy physical bullion at those prices may be illusionary. So, if there are no gold vending machines nearby, what can the ordinary man on the street do to take advantage of the recent violent take-downs (expect more to come) and the increasingly volatile paper gold & silver prices? Consider these 2 options.
(1) Cost averaging
While there's a possibility that that PMs prices may be forced to step into the elevator shaft yet again, the probability of that happening is anyone's guess. For serious savers who understand that physical bullion is the only financial asset with no counter-party risks and that the fundamentals for owning PMs have not deteriorated one bit, the recent market intervention by the Powers That Be (PTB) should be viewed as a generous gift and an opportunity to start (or continue) accumulating on a cost averaging basis.  Here's an excellent article on Ounce Cost Averaging buying strategy.
(2) Buy bullion like a professional
Retail buyers of physical bullion are so very far down the food chain that it's very difficult to take full advantage of the sharp (deep and fast) drop in paper prices. This has driven some to consider PM derivatives like ETFs and pooled accounts. While these vehicles offer the advantage of capturing the narrow window of opportunity presented during price smashing operations by the PTB, the danger lies in the fact that these players end up buying and owning paper claims to PMs instead of owning the real thing. Living in the current financial system teetering on the verge of collapse, the more prudent among us would like to stay away from these investments carrying counter-party risks.
That leads us to the option of buying and owning physical bullion like professionals do - at the London Bullion Market. Of course we can't do that directly. The way around is to use the services of established bullion dealers that act as the only middleman between us and the London Bullion Market. BullionVault, GoldMoney and AFE are 3 of the more reputable companies in this industry I'm familiar with, and they are reviewed here.
Learn more about buying and storage options, including discussions about Allocated Bullion Accounts in the comments section.
Updated: Oct 9
Categories:

Articles by PoliticalMetals, News
BullionVault, China, Gold, GoldMoney, Malaysia, Manipulation, Shortage, Silver, Suppression, Volatility