Gold extends record high on India purchase
By Javier Blas & James Lamont | Financial Times | Nov 3 2009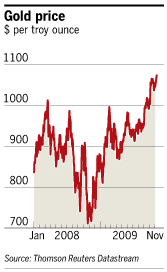 Gold prices continued to rise on Wednesday extending the all-time highs which followed India's central bank bought 200 tonnes of the precious metal, swapping dollars for bullion as the country's finance minister warned the economies of the US and Europe had "collapsed".
India's decision to exchange $6.7bn for gold equivalent to 8 per cent of world annual mine production sent the strongest signal yet that Asian countries were moving away from the US currency.
The purchase by New Delhi's Reserve Bank from the International Monetary Fund pushed gold prices to a record $1,090.90 per troy ounce, up 2.6 per cent on the day, as traders bet that other central banks would also become buyers.
Pranab Mukherjee, India's finance minister, said the acquisition reflected the power of an economy that laid claim to the fifth-largest global foreign reserves: "We have money to buy gold. We have enough foreign exchange reserves."
He contrasted India's strength with weakness elsewhere: "Europe collapsed and North America collapsed."
Read full article at Financial Times