Gold and gold mining shares in % of global assets
-
The Race to Debase
Monitoring the Currency Wars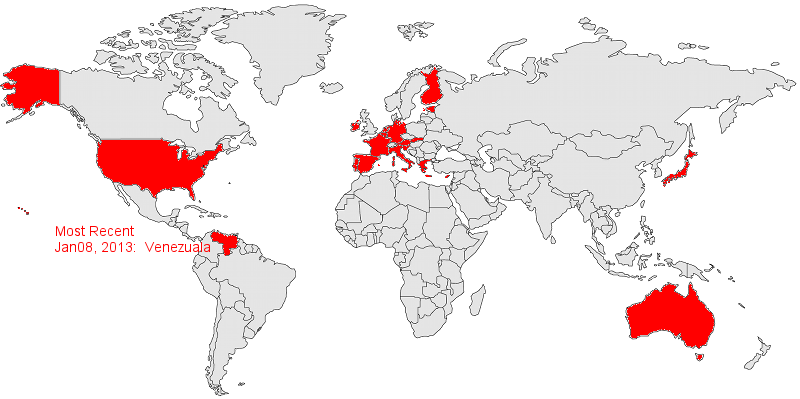 Most Recent:
08 Feb
Venezuala devalues Bolívars by 46%.
Watch List:
04 Apr The BOJ unleashed the world's most intense burst of monetary stimulus
01 Apr Currency auction puts Venezuela through new devaluation
20 Feb NZ$ falls on intervention comments
03 Feb Falling yen set to spark renewed currency wars

Most Popular
Archives

2013

21Mar: Societe Generale

Gold below $1,400 by end 2013

18Mar: Larry Edelson (Money&Markets)

Gold below $1,500, Silver below $20 "soon"

27Feb: Jim Sinclair (JSMineSet)

Current price correction ends by 27March

27Feb: Jim Sinclair (JSMineSet)

Gold will climb to $3500 & beyond

2012

16Oct: Jeff Clark (Casey Research)

$2,300 gold by January 2014

05Sep: Bill Murphy (GATA)

$50 silver by year end

13Aug: James Turk (GoldMoney)

We won't see $1580 gold & $27 silver again

12Aug: Bill Murphy's source

We could see a 100% increase in 90 days.

03Aug: HSBC Analysts

Gold to rally above $1,900 by end 2012

>> More forecasts & forecast accuracy


Featured Videos
Sound Money Campaign: Join the Campaign - Buy Silver on May 1, 2013, the second anniversary of the Silver "Drive-by-Shooting"

SGTbull07: Gold & Silver Price Slam - Behind the Curtain

Rick Rule: Gold & Silver Sell Off A Non-Event

Wealth Inequality in America: Graphic Presentation Shows the Extent of U.S. Wealth Inequality.

Daily GOLD US$/oz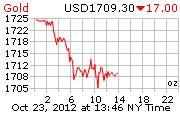 -
Daily SILVER US$/oz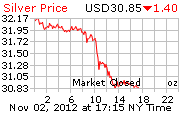 -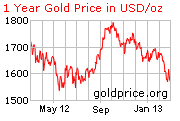 More Gold Charts: 1 Month to 660 Years
-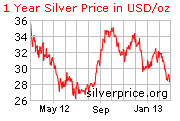 More Silver Charts: 1 Month to 660 Years
-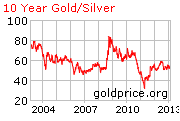 Gold/Silver Ratio: 1 Month to 660 Years
Gold & Silver Priced in BitCoins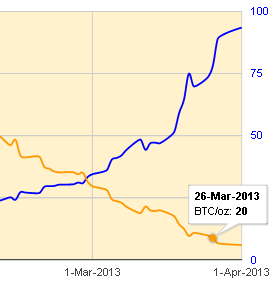 Click to view full data