If history is any guide
-
Our generation grew up with the USD as the global reserve currency, and until recently, few would have questioned its status. Since the global financial crisis of 2008, and more so in the last few months, increasingly large segments of the global community have been questioning the status quo to the extend of actually preparing themselves for the inevitable day when the USD loses its reserve currency status.
While the average lifespan of global reserve currencies is around 100 years, the average lifespan of fiat currencies is only 27 years.  Most if not all of the above global reserves currencies had some form of gold or silver backing in one form or another, that is they were not fiat currencies. The USD has been serving as a global reserve currency for over 90 years, 40 of which as a fiat global reserve currency.
If history is any guide, the USD is fast approaching its "use by date". It is little wonder that many are preparing not just for the inevitable loss of its reserve status but also the demise of the currency itself.
Rate this:
Like this:
Be the first to like this.
-
The Race to Debase
Monitoring the Currency Wars
Archives

05Sep: Bill Murphy (GATA)

$50 silver by year end

13Aug: James Turk (GoldMoney)

We won't see $1580 gold & $27 silver again

12Aug: Bill Murphy's source

We could see a 100% increase in 90 days.

03Aug: HSBC Analysts

Gold to rally above $1,900 by end 2012

05June: David Bond (SilverMiners)

Gold & Silver may bottom at $1,200 & $18

02June: Don Coxe (Coxe Advisors)

Europe to issue Gold-backed Euro Bonds within the next 3 months

21May: Gene Arensberg (GotGoldReport)

Gold and Silver are very close to a bottom, if one has not already been put in last week

9May: Eric Sprott (Sprott Asset)

Gold over $2000, Silver over $50 by year end

>> More forecasts & forecast accuracy


Featured Videos
Finding Silver: For a change, forget about the politics and financial aspects of silver. Let's appreciate the science & the engineering behind that beautiful silver coin.
High Frequency Trading: You can get in easily. "Getting out is the problem" David Greenberg, former NYMEX board and executive committee member. Paper gold & silver markets are dominated by HFTs.
Daily GOLD US$/oz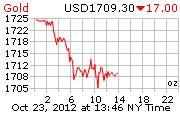 -
Daily SILVER US$/oz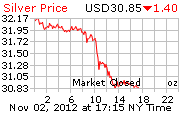 -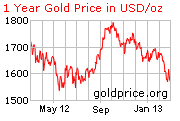 More Gold Charts: 1 Month to 660 Years
-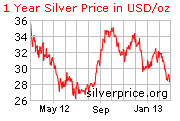 More Silver Charts: 1 Month to 660 Years
-