Own Physical Gold, but Audit Paper Gold
Much has been written here and elsewhere about the merits of holding physical gold as opposed to paper representations of gold, otherwise known as gold derivatives or paper gold. However, when it comes to auditing gold stored in vaults, counting the physical gold bars and drilling holes into them are not necessarily the way to go. Ironically, when it comes to auditing, it's the "paper" that's more importing than the physical.
In this recent interview at Capital Account, Chris Powell, co-founder and treasurer of Gold Anti Trust Action Committee (GATA) explains why he's not excited about news that the US Treasury is auditing its gold stored at the NY Federal Reserve.
The dramatic news of drilling into the bars to ascertain their purity is of little relevance to him. He's more interested in an audit of the paper claims to the gold. He doesn't doubt that the gold is physically there, nor that they are pure. Rather, he wants to know who actually owns the gold? How many parties are claiming ownership to each bar of gold? Have they been leased or swapped?
Watch this very informative interview, which also covers other topics of interest:
JP Morgan and the US government's role in the silver manipulation,
The history of gold manipulation; The London Gold Pool & the role of the BIS.
-
For further reading:
Rate this:
Like this:
Be the first to like this.
Categories:

Articles by PoliticalMetals, Commentaries [Video]
Tags:

CFTC, Federal Reserve, GATA, Gold, Intervention, JP Morgan, Manipulation, Silver, Suppression, Treasury
-
The Race to Debase
Monitoring the Currency Wars
Most Popular
Archives

05Sep: Bill Murphy (GATA)

$50 silver by year end

13Aug: James Turk (GoldMoney)

We won't see $1580 gold & $27 silver again

12Aug: Bill Murphy's source

We could see a 100% increase in 90 days.

03Aug: HSBC Analysts

Gold to rally above $1,900 by end 2012

05June: David Bond (SilverMiners)

Gold & Silver may bottom at $1,200 & $18

02June: Don Coxe (Coxe Advisors)

Europe to issue Gold-backed Euro Bonds within the next 3 months

21May: Gene Arensberg (GotGoldReport)

Gold and Silver are very close to a bottom, if one has not already been put in last week

9May: Eric Sprott (Sprott Asset)

Gold over $2000, Silver over $50 by year end

>> More forecasts & forecast accuracy


Featured Videos
Finding Silver: For a change, forget about the politics and financial aspects of silver. Let's appreciate the science & the engineering behind that beautiful silver coin.
High Frequency Trading: You can get in easily. "Getting out is the problem" David Greenberg, former NYMEX board and executive committee member. Paper gold & silver markets are dominated by HFTs.
Daily GOLD US$/oz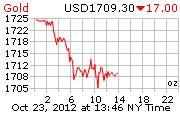 -
Daily SILVER US$/oz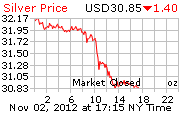 -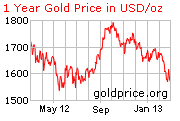 More Gold Charts: 1 Month to 660 Years
-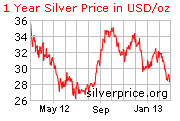 More Silver Charts: 1 Month to 660 Years
-