Potential sharp moves in gold & silver prices. Which direction?
Several renowned analysts have voiced caution over the possibility of an imminent sharp but brief short term correction in gold & silver prices due to the positioning of large market players at the Comex and technical analysis of charts.
See 
Dan Norcini
 & 
Clive Maund
's comments. Mike Maloney also exercised caution over the same situation in an alert to Insiders over the weekend.
One of the very few precious metals dealers I know who periodically advises clients about a potential short term correction is Franklin Sanders, aka The Money Changer. Here's an exerpt of his weekend commentary. Full article
here
.
On a longer chart, gold has now drawn two tops, with a spike low to $1,740 between. This is a broadening top, a reversal, unless & until gainsaid by a close above those double tops. The 20 DMA awaits below at $1,767.31. Should gold break that, all those cosmic gobs of trend-following hot money will dump gold quicker than a fool drops a red hot horseshoe.

WHEREFORE although gold closed barely higher (0.5%) this week, next week is more likely to weigh gold down. In fact, my boundaries from last week still hold:

Gold above $1,805 (2 day close) with silver above 3525c screams that no correction is coming soon, or

Gold below $1,738 (1 day close) with silver below 3336c sets both up for lower prices.

The 20 day moving averages, first tripwire of a decline, stand now at 3438c & $1,767.31. Any closes thereunder point down.

Correction targets are $1,700, $1,691.90 (50 DMA) and $1,650 for gold, 3200c & 3100c for 3200c & 3100c for silver. If they do fall, expect to last no more than 3 weeks.
Please note that all of these analysts are talking about the possibility of a brief short term correction, setting the stage for a stronger long term upside move thereafter. The fundamentals remain positive and overall trend is up.
Virtually every analyst looking at the way the PMs markets have been behaving over the past 2 weeks agree that very soon there will be a violent move from the current price points.
The debate is over the direction of the move. Caesar Bryan of Gabelli & Company thinks that "because of the overwhelming fear of a correction here, it may not happen". Others think that due to the tight physical market and demand for physical metals, the physical market will overpower the paper market. Should that happen, price movements to the upside will be steep!
-

Updated 17 Oct:
KWN interviews "London Trader" - No waterfall declines this time. Just a pull back, not a correction, because of competing physical buyers.
Rate this:
Like this:
Be the first to like this.
Most Popular
Archives

16Oct: Jeff Clark (Casey Research)

$2,300 gold by January 2014

05Sep: Bill Murphy (GATA)

$50 silver by year end

13Aug: James Turk (GoldMoney)

We won't see $1580 gold & $27 silver again

12Aug: Bill Murphy's source

We could see a 100% increase in 90 days.

03Aug: HSBC Analysts

Gold to rally above $1,900 by end 2012

05June: David Bond (SilverMiners)

Gold & Silver may bottom at $1,200 & $18

02June: Don Coxe (Coxe Advisors)

Europe to issue Gold-backed Euro Bonds within the next 3 months

21May: Gene Arensberg (GotGoldReport)

Gold and Silver are very close to a bottom, if one has not already been put in last week

>> More forecasts & forecast accuracy


Featured Videos
Bart Chilton on CFTC Investigations of Silver Manipulation and Violations of the Law
Bart Chilton on Large Position Concentrations and Precious Metals Manipulation
Daily GOLD US$/oz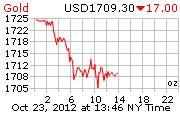 -
Daily SILVER US$/oz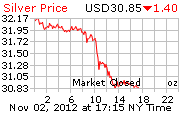 -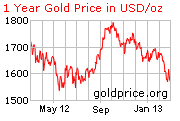 More Gold Charts: 1 Month to 660 Years
-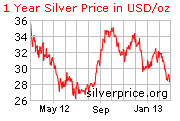 More Silver Charts: 1 Month to 660 Years
-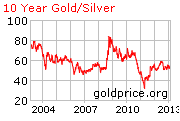 Gold/Silver Ratio: 1 Month to 660 Years
Gold & Silver Priced in BitCoins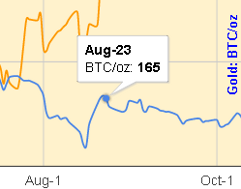 Click to enlarge.
BitCoin donation welcomed.
1NQ4LqE8yL6rfAqikDU8wLhHSm5fntsWxk