-
The Race to Debase
Monitoring the Currency Wars
Most Popular
Archives

05Sep: Bill Murphy (GATA)

$50 silver by year end

13Aug: James Turk (GoldMoney)

We won't see $1580 gold & $27 silver again

12Aug: Bill Murphy's source

We could see a 100% increase in 90 days.

03Aug: HSBC Analysts

Gold to rally above $1,900 by end 2012

05June: David Bond (SilverMiners)

Gold & Silver may bottom at $1,200 & $18

02June: Don Coxe (Coxe Advisors)

Europe to issue Gold-backed Euro Bonds within the next 3 months

21May: Gene Arensberg (GotGoldReport)

Gold and Silver are very close to a bottom, if one has not already been put in last week

9May: Eric Sprott (Sprott Asset)

Gold over $2000, Silver over $50 by year end

>> More forecasts & forecast accuracy


Featured Videos
Finding Silver: For a change, forget about the politics and financial aspects of silver. Let's appreciate the science & the engineering behind that beautiful silver coin.
High Frequency Trading: You can get in easily. "Getting out is the problem" David Greenberg, former NYMEX board and executive committee member. Paper gold & silver markets are dominated by HFTs.
Daily GOLD US$/oz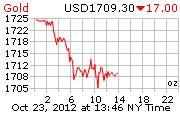 -
Daily SILVER US$/oz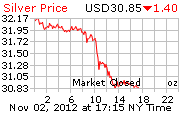 -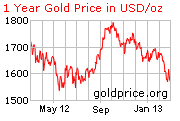 More Gold Charts: 1 Month to 660 Years
-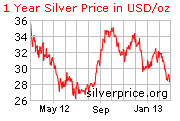 More Silver Charts: 1 Month to 660 Years
-