Currency Wars & Another "Drive-By-Shooting"
The world watches as…
US raised its debt ceiling - more borrowing, more printing
Swiss National Bank flooded its money markets as it tried to weaken the currency
Japan intervened in the currency markets to slow the rapid rise of the yen
News of Thailand, South Korea & even Greek central banks buying gold
Investors flee the stock markets, Dow plunged
Gold's relentless push into all time highs continued
Silver climbed steeply against all major currencies
Obviously something had to be done as competitive devaluations and flight from fiat currencies into gold & silver gained momentum. And so, another orchestrated take down of PMs not unlike the Drive-By-Shooting event of May 1 just  took place…. and is still continuing as I write. Another margin hike??
-
Related News & Views:
Rate this:
Like this:
Be the first to like this.
-
The Race to Debase
Monitoring the Currency Wars
Most Popular
Archives

05Sep: Bill Murphy (GATA)

$50 silver by year end

13Aug: James Turk (GoldMoney)

We won't see $1580 gold & $27 silver again

12Aug: Bill Murphy's source

We could see a 100% increase in 90 days.

03Aug: HSBC Analysts

Gold to rally above $1,900 by end 2012

05June: David Bond (SilverMiners)

Gold & Silver may bottom at $1,200 & $18

02June: Don Coxe (Coxe Advisors)

Europe to issue Gold-backed Euro Bonds within the next 3 months

21May: Gene Arensberg (GotGoldReport)

Gold and Silver are very close to a bottom, if one has not already been put in last week

9May: Eric Sprott (Sprott Asset)

Gold over $2000, Silver over $50 by year end

>> More forecasts & forecast accuracy


Featured Videos
Finding Silver: For a change, forget about the politics and financial aspects of silver. Let's appreciate the science & the engineering behind that beautiful silver coin.
High Frequency Trading: You can get in easily. "Getting out is the problem" David Greenberg, former NYMEX board and executive committee member. Paper gold & silver markets are dominated by HFTs.
Daily GOLD US$/oz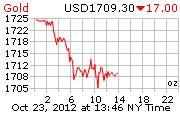 -
Daily SILVER US$/oz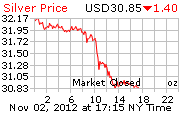 -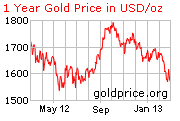 More Gold Charts: 1 Month to 660 Years
-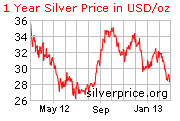 More Silver Charts: 1 Month to 660 Years
-