Posts Tagged 'Commodities'
Submitted by Ben Traynor | BullionVault, 12 Aug '11
-
Gold Bullion prices dropped nearly 1% in an hour Friday morning in London – hitting a low of $1746 per ounce – as stocks and commodities rallied after yesterday's decision by four European regulators to ban short selling.
Dollar Gold Bullion Prices however remained 5% up for the week as we head towards the weekend.
Silver Bullion Prices meantime hit $38.70 per ounce around lunchtime – a 1% gain for the week.
"The gold physical market seems to believe that gold will move still higher soon," reckons Walter de Wet, commodities strategist at Standard Bank.
"This, combined with seasonal demand which should start picking up soon too, is providing good physical demand for gold and silver."
"The gold market remains underpinned by the movement to physical gold," agrees a note from UBS.
"We have also observed among existing and indeed new clients this week a growing preference towards Allocated Gold instead of metal account/unallocated gold…the move to real assets such as gold in physical form signifies the heightened state of risk aversion at present."
Regulators in France, Italy, Spain and Belgium moved to ban short selling of financial stocks on Thursday – after another day of volatile trading in the shares of French banks.  The ban will be in effect for 15 days.
Short sellers "wanted to test French resistance," said Jean-Pierre Jouyet, head of the Autorité des Marchés Financiers, the French regulator.
"This is our response, as always very determined, and it will be so for all those who want to put us to the test."
"It is the worst thing to do right now," says Abraham Lioui, economics professor at France's Edhec business school.
"This would signal to the market there may be something fundamentally bad that is happening."
"In the short-term it will help calm things down," adds Ion-Marc Valahu, fund manager at ClairInvest in Geneva.
"But if you look at what happened at Lehman during the crisis, it didn't do much."
The Dutch financial regulator said Friday it did not see any need for a ban.
France's economy failed to grow at all in second quarter of the year, according to figures published Thursday – which showed French GDP growth of 0% compared to the first three months of the year.
Friday meantime brought news that Eurozone-wide industrial production slowed in June. Year-on-year growth dropped to 2.9% - down from 4.4% the previous month.
Over in the US, SPDR Gold Trust (ticker: GLD), the world's largest Gold ETF, saw its biggest one day outflow of Gold Bullion since January on Thursday, as investors withdrew the equivalent of 23.6 tonnes.
"Some ETF investors clearly view the recent…sharp price rally as exaggerated and have taken profits, as financial markets calm," says a note from Commerzbank.
Over in Vietnam, the governor of the central bank has suggested the Vietnamese government may seek to control the domestic Gold Price.
His comments come after the Vietnamese Dong fell 1% against the Dollar this week to VND20,812 per $1 – the biggest fall since February.
"Companies need Dollars to import gold," explains Luu Hai Yen, fixed-income analyst at Thang Long Securities in Hanoi.
"Demand for Dollars is expected to rise from now to the end of the year."
Vietnam is pursuing "muddled objectives" says Dr. Vuong Quan Hoan, founder of Hanoi-based consultancy DHVP Research.
"This added target… would likely further complicate the already clumsy monetary policy in the country amid increasing pressure caused by macro imbalances."
Earlier in the week the State Bank of Vietnam – which controls the import and export of gold – allowed dealers to import 5 tonnes of Gold Bullion to ease domestic Gold Prices, which had opened up a premium against those quoted on the international spot market.
Get the safest Allocated Gold at the lowest prices with BullionVault…
---
Ben Traynor
 is editor of Gold News, the analysis and investment research site from world-leading gold ownership service BullionVault. Ben Traynor was formerly editor of the 
Fleet Street Letter
, the UK's longest-running investment letter. A Cambridge economics graduate, he is a professional writer and editor with a specialist interest in monetary economics.
Submitted by Ben Traynor, 03 Aug '11
-
How foreigners have paid for US entitlement spending…
I was the one who let you know
I was your sorry ever after
'74-'75
MAYBE it's coincidence, or maybe The Connells were onto something, but the years 1974 and 1975 stand out as key dates in the economic history of the United States, writes Ben Traynor at BullionVault.
December 31 1974 was the date Americans finally regained the right to own gold. The US removed the last of its significant capital controls in 1974, while 1975 was the time it ever ran a trade surplus.
That's not all. According to data from the US Treasury and the Bureau of Economic Analysis, 1974 was the year US national debt stopped falling as a percentage of economic output. For the rest of the 1970s, national debt held constant at around a third of gross domestic product, before beginning the long climb that would lead to the debt ceiling theatrics we've seen in Washington over recent weeks.
To understand why this was, we need to go back to August 15 1971 – the day Richard Nixon cut the Dollar's convertibility to gold. Take a look at what has happened since to the US federal deficit: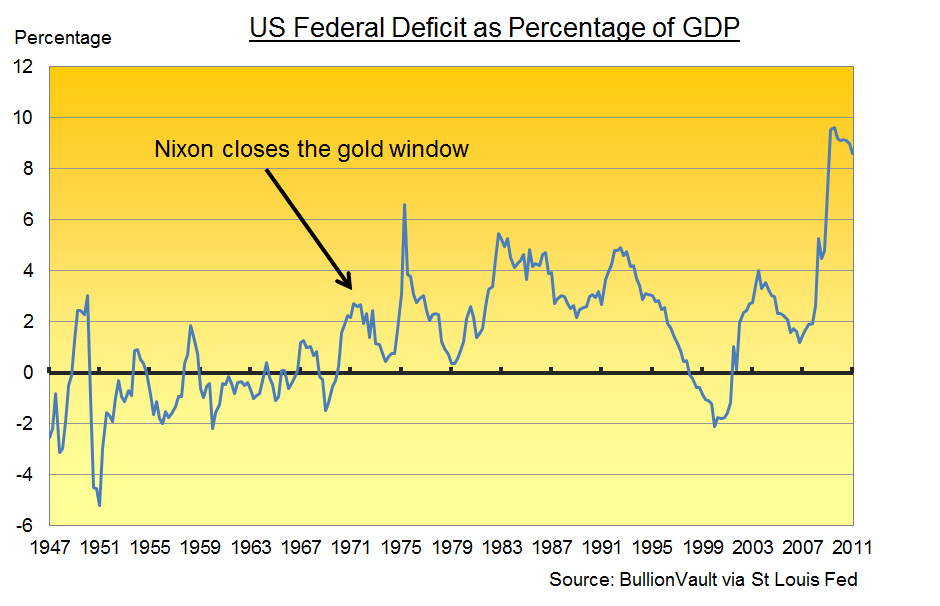 The chart shows the federal deficit, measured quarterly, as a percentage of GDP going back to 1947. For much of the postwar era, the US government was actually in surplus – shown on the chart as a negative deficit.
Not only that, for the period 1950 to 1974 the average deficit was just 0.7%, according to research by Kevin Kliesen and Daniel Thornton, economists at the Federal Reserve Bank of St Louis.
The period since 1974, however, looks very different. There was only one, short-lived surplus period towards the end of the last century, mostly the result of falling defense spending following the end of the Cold War. The rest of the period saw government borrowing – with the average deficit coming in at 3.1% of GDP.
Something had clearly changed. Kliesen and Thornton put the blame squarely on increased spending. Tax revenues, they argue, have remained at around 18% of GDP for at least 60 years. Government spending, however, has crept up.
In a follow-up essay, the two St Louis Fed economists argue that Social Security, Medicare and "other payments to individuals" account for much of this increase. Because these rising payments were not matched by rising revenues, or by spending cuts elsewhere, they inevitably led to the persistent budgets deficits that have seen US national debt grow to $14.3 trillion – a figure we are now very familiar with thanks to the debt ceiling "debate".
But what's the connection with gold? How did Nixon's action forty years ago pave the way for a growth in entitlement spending beyond what GDP growth would have justified?
The answer is that – thanks to Nixon's maneuver – foreign money could fill the gap.
The 'Impossible Trinity' of exchange rate economics states that a country can only achieve two of the following three goals at any one time: a fixed exchange rate, an independent monetary policy and a free flow of capital across its borders. Any attempt to achieve all three simultaneously is doomed to failure.
As an example, suppose a country wants to lower its interest rates in an attempt to boost domestic growth. This is liable to cause outflows of funds abroad seeking a better return elsewhere, putting downwards pressure on the exchange rate, and threatening the currency's peg in a fixed exchange rate system.
To maintain the peg, the country may try to support its currency on the open market. But it can't do this forever – it will run out of foreign exchange reserves. Its only options are to raise interest rates or abandon free capital flows by imposing controls. In a fixed exchange rate system it cannot maintain monetary sovereignty without capital controls.
By cutting the Dollar's peg with gold, Nixon also cut its peg to every other major currency, giving birth to the free floating era we have today. As a result, the US could abandon its capital controls without giving up control over interest rates.
It did just that. The result was an explosion in foreign holdings of US financial assets – with US Treasury debt a major destination for foreign funds:
In 1974, foreign investors held $23.8 billion in long-term US debt – equivalent to 1.6% of GDP
By 1989 that figure had risen to $333.2 billion (6.0% of GDP)
By 1997 it was $1.05 trillion (12.6% of GDP)
By June 2010, a total of $3.3 trillion of long-term US debt was foreign held – 23% of GDP.
The implication is clear – foreigners bankrolled the expansion of Medicare. Foreigners paid for the growth in Social Security. The question is…why?
The answer, of course, is they didn't have much choice. The US Dollar, as we know, is the world's number one reserve currency. So the rest of the world has to keep a healthy stash of Dollars as a prerequisite to doing business.
Not only that, with the US running a constant trade deficit other countries have been raking in US currency. They have to put it somewhere – and the US debt markets are the deepest and most liquid on the planet.
Severing the link between the Dollar and gold, then, not only led to an external trade deficit. It also allowed Uncle Sam to run a persistent – and larger – internal deficit, funded from beyond America's borders.
The question haunting the US Treasury is: how much longer will the world's surplus nations keep bailing it out?
Get the safest gold at the lowest prices with BullionVault…
---
Ben Traynor
 is editor of Gold News, the analysis and investment research site from world-leading gold ownership service BullionVault. Ben Traynor was formerly editor of the 
Fleet Street Letter
, the UK's longest-running investment letter. A Cambridge economics graduate, he is a professional writer and editor with a specialist interest in monetary economics.