Another Unprecedented Court Order for the Federal Reserve
Hardly 2 months after judge Ellen Segal Huvelle ordered the Federal Reserve to release some tightly held records related to its gold price suppression scheme sought by GATA, it is now ordered to release details of emergency loans made to banks in 2008. The records were originally requested by Bloomberg under the Freedom of Information Act. A federal trial judge ruled in 2009 that the Fed had to disclose the records, and a New York-based appeals court upheld that ruling.
The Federal Reserve will disclose details of emergency loans it made to banks in 2008, after the U.S. Supreme Court rejected an industry appeal that aimed to shield the records from public view.

The justices today left intact a court order that gives the Fed five days to release the records, sought by Bloomberg News's parent company, Bloomberg LP. The Clearing House Association LLC, a group of the nation's largest commercial banks, had asked the Supreme Court to intervene.

"The board will fully comply with the court's decision and is preparing to make the information available," said David Skidmore, a spokesman for the Fed.

The order marks the first time a court has forced the Fed to reveal the names of banks that borrowed from its oldest lending program, the 98-year-old discount window. The disclosures, together with details of six bailout programs released by the central bank in December under a congressional mandate, would give taxpayers insight into the Fed's unprecedented $3.5 trillion effort to stem the 2008 financial panic.

"I can't recall that the Fed was ever sued and forced to release information" in its 98-year history, said Allan H. Meltzer, the author of three books on the U.S central bank and a professor at Carnegie Mellon University in Pittsburgh.

Source [Bloomberg]
Obviously the reporter, Greg Stohr, was not aware of the GATA suit. G-10 Committee Meeting Minutes released to GATA by the Fed, as ordered by U.S. District Court judge Ellen Segal Huvelle.
-
Rate this:
Like this:
Be the first to like this.
Most Popular
Archives

16Oct: Jeff Clark (Casey Research)

$2,300 gold by January 2014

05Sep: Bill Murphy (GATA)

$50 silver by year end

13Aug: James Turk (GoldMoney)

We won't see $1580 gold & $27 silver again

12Aug: Bill Murphy's source

We could see a 100% increase in 90 days.

03Aug: HSBC Analysts

Gold to rally above $1,900 by end 2012

05June: David Bond (SilverMiners)

Gold & Silver may bottom at $1,200 & $18

02June: Don Coxe (Coxe Advisors)

Europe to issue Gold-backed Euro Bonds within the next 3 months

21May: Gene Arensberg (GotGoldReport)

Gold and Silver are very close to a bottom, if one has not already been put in last week

>> More forecasts & forecast accuracy


Featured Videos
German Central Bank pledged to the Fed never to buy gold again
George Soros: His role in major world events as agent of the British Empire, as told by LarouchYouth
Daily GOLD US$/oz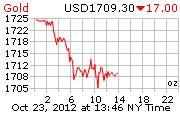 -
Daily SILVER US$/oz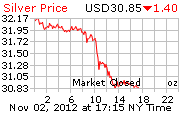 -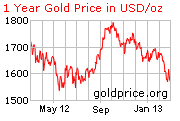 More Gold Charts: 1 Month to 660 Years
-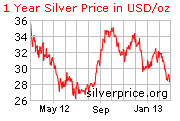 More Silver Charts: 1 Month to 660 Years
-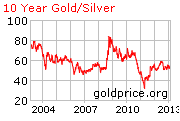 Gold/Silver Ratio: 1 Month to 660 Years
Gold & Silver Priced in BitCoins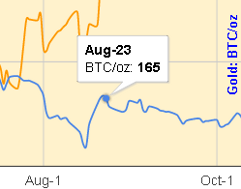 Click to enlarge.
BitCoin donation welcomed.
1NQ4LqE8yL6rfAqikDU8wLhHSm5fntsWxk