Posts Tagged 'Treasury'
-
5 days ago saw the 150th year anniversary of an event so historic that a very select few even noticed: the birth of US fiat. Bloomberg was one of the few who commemorated the birth of modern US currency: "On April 2, 1862, the first greenback left the U.S. Treasury, marking the start of a new era in the American monetary system…. The greenbacks were originally intended to be a temporary emergency-financing measure. Almost bankrupt, the Treasury needed money to pay suppliers and troops. The plan was to print a limited supply of United States notes to meet the crisis and then have people convert the currency into Treasury bonds. But United States notes grew in popularity and continued to circulate." The rest, as they say is history.
In the intervening 150 years, the greenback saw major transformations: from being issued by the Treasury and backed by gold, it is now printed, mostly in electronic form, by an entity that in its own words, is "set up similarly to private corporations, but operated in the public interest." Of course, when said public interest is not the primary driver of operation, the entity, also known as the Federal Reserve is accountable to precisely nobody. Oh, and the fiat money, which is now just a balance sheet liability of a private corporation, and thus just a plug to the Fed's deficit monetization efforts, is no longer backed by anything besides the "full faith and credit" of a country that is forced to fund more than half of its spending through debt issuance than tax revenues.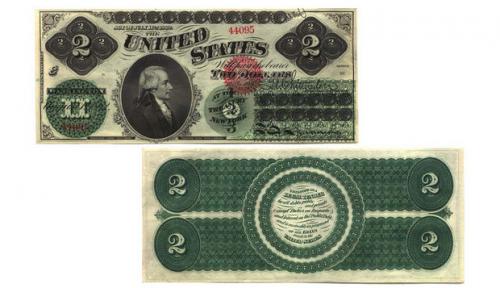 More on the history of American fiat from Bloomberg:
At the start of the Civil War, the U.S. didn't have a national paper currency. Instead, the money supply consisted of U.S. coins and a collection of paper notes issued by private banks. Technically, the federal government began issuing its own paper currency in 1861. That year, the Lincoln administration issued $60 million in demand notes, a variant of a Treasury note that was redeemable "on demand" for gold coins at the Treasury or any sub-Treasury.

These notes were overshadowed in 1862 by the issue of $150 million in a new fiat currency officially known as United States notes and popularly known as greenbacks or legal tenders. By the end of the war, close to $450 million worth of greenbacks were in circulation.

The name greenbacks referred to the reverse of the notes, which were printed in green. The name legal-tender notes referred to the text that originally appeared on the back, which began, "This note is legal tender for all debts, public and private." This provision made the currency a valid form of payment on par with gold and silver, which was a very controversial action at the time. It made the United States note a fiat currency — meaning its value was established by law alone and wasn't based on some other unit of value, such as gold, silver or land.

Many Americans during and after the Civil War believed the creation of a fiat currency was unconstitutional. The Constitution explicitly stated that only gold and silver could be considered legal tender. In 1871, in the case of Knox v. Lee, the Supreme Court settled the matter by declaring that making United States notes legal tender was indeed constitutional.

By this time, the greenback was at the center of a countrywide debate on monetary policy. When the post-Civil War economic boom ended in the panic and depression of 1873, many people, especially farmers, blamed the Treasury's policy of contracting the currency — that is, removing United States notes from circulation in an attempt to go back to the gold standard, which would require that a $1 note could be redeemed for $1 in gold.

As a consequence, there was a call for the expansion of United States note circulation or an inflation of the currency. This belief became joined with a political ideology that opposed big business and banking interests, resulting in the birth of the Greenback Party in 1874.

Opposing the Greenbackers were more conservative interests, sometimes known as "gold bugs," who found support in the Republican Party and in elements of the Democratic Party. Gold interests proved the stronger contestant in the debate and in 1878, the total circulation of United States notes was fixed at a little over $346 million and the notes eventually became redeemable in gold (at least until 1933, when this provision was removed).

During the 20th century, United States notes became ever less important in the nation's money supply, though Congress supported their continued circulation. They were increasingly replaced by currency issued by the Federal Reserve System, which came to look almost identical to the United States note. The Federal Reserve note thus became the new greenback.

In 1966, Congress allowed the Treasury to start removing United States notes from circulation. The last delivery of the notes by the Bureau of Engraving and Printing to the Treasury was made in 1971. In 1994, the Riegle Community Development and Regulatory Improvement Act eliminated the issuance of the notes altogether.
So instead of real money, America has an impostor "which came to look almost identical to the United States note" with the full complicity of everyone in charge, just so that when needed, any and all untenable debt burdens can be inflated away. And while the latter is a topic of a whole different discussion, we present another chart which, unlike the 150th anniversary of fiat, should be something discussed far more broadly… Because in a fiat world superpower status is always relative.
-
Source: ZeroHedge
Related Articles:
Categories:

Articles from external sources, News
Central Banks, Currency, Debt, Federal Reserve, Fiat money, Gold, Gold Standard, Inflation, Silver, Treasury, USD
-
Towards the end of Chris Powell's speech at the 18th CLSA Investors' Forum in Hong Kong, he addressed the all important question Why hasn't gold kept up with inflation?
It's because Western governments found ways of vastly increasing the supply of gold without having to go through the trouble of mining it — to dishoard and lease it from central bank reserves and to issue certificates of deposit against gold that never existed in the first place.
"Why" is supposed to be a basic question of journalism. But it has fallen out of financial journalism when it comes to gold, he lamented.
In recent years, and especially in recent months, I have spent much time explaining the gold price suppression scheme to leading financial journalists in the West. I have given them the documentation. Some of these journalists seemed interested. But none has ever reported anything about the issue. One writer who works for a major news agency in the United States was intrigued enough to call the Federal Reserve and ask about its gold swaps. She got a very telling "no comment." But unfortunately she could not get her editor's permission to write a gold story.

Frustrating as all this is, it is not too surprising. After all, who are the major advertisers in the Western financial news media and the major sources of financial news? The market manipulators and governments themselves. And journalists seem to take for granted that central banks operate in secret, particularly in regard to gold, so there's no point in questioning them — even though central banking now determines the value of all capital, labor, goods, and services in the world, and does so in secret.

So here I am in Asia, which is a major victim of the gold price suppression scheme. Maybe there will be more curiosity and indignation about it here.

But Asia is not the only victim of this scheme. My own country may be the biggest victim. For this scheme has helped to corrupt the United States, destroying our once-free markets and the accountability of our government.

We in GATA do what we can, even though, from our beginning, we have wondered whether we could really presume to speak for gold. And not just for gold, of course — we are not idolaters — but for the economic and political liberty of individuals and the national sovereignty that gold serves and stands for. With gold always under attack precisely for what it represents, and with no others coming forward to defend it for what it represents, with even the gold mining industry's main trade association refusing to acknowledge the attack, we have hoped that any presumption on our part might be forgiven.

We remain largely amateurs. At the outset we did not half understand what was going on and what we were setting about to do. Our name preserves that imperfect understanding. We thought we had discovered just another anti-trust violation. It was a while before we perceived that we were up against government policy and that most of what we were discovering had been discovered long ago, at least in principle, just not well taught, publicized, preserved, and made timely again.

Because it can work only through surreptitiousness and deceit, this government policy will be defeated when it is more widely understood — and every day it is being better understood, because it is getting so brazen. It was more brazen than ever the other day when Switzerland devalued its franc, the world's leading "safe haven" currency, apparently leaving the "safe haven" field exclusively to gold. But just a few minutes before the Swiss franc's devaluation was announced, unidentified sellers dumped thousands of gold futures contracts on markets around the world, causing the gold price to plunge along with the Swiss franc. These sellers plainly did not aim to make a profit from their gold holdings; if they had intended to make a profit, they would have sold gradually into the market. No, they meant to knock the price down hard, and they did.

These sellers almost surely were central banks. But as far as I could tell, no Western journalist has yet put a question to any central banker about that strange and counterintuitive action in the gold market.

I ask for your help in forcing an end to the gold price suppression scheme. I ask in the cause of giving individuals, nations, and all humanity a chance at democracy, liberty, and limited government with a neutral, fair, and impartial international currency that serves not just one government or another or one class or another but rather the whole brotherhood of man.
-
---
Chris Powell, is the treasurer/secretary of Gold Anti Trust Committee and a newspaper editor in Connecticut.
Categories:
Articles from external sources
Banking, Central Banks, Federal Reserve, GATA, Gold, Intervention, Manipulation, Shortage, Suppression, Treasury, USD