It's Out! 29,000 pages of Fed's 'Discount Window" Documents
Three years in the waiting, and after an unprecedented court order requiring the Federal Reserve to release its tightly guarded secrets over the "Discount Window"  emergency lending during the height of the 2008 financial crisis, they're finally out - all 29,000 pages! Preliminary study of this pile of documents by Bloomberg reveals that$110.7B was loan to banks, many of which were foreign. The Fed had earlier refused to reveal their identities, even when requested by Congress.
In a Bloomberg interview, Texas congressman and chairman of the Domestic Monetary Policy Subcommittee that overseas the Fed, Ron Paul lamented how out of control this monetary system has become. With congressional hearings scheduled in May, he plans to show how this out of control system is connected with the bad economy. Some other key points raised in the interview:-
Just the exposure of this is a tremendous insight into what's going on.

It's not true wealth they're dealing with… they're dealing with a secret organization that creates money out of thin air and bail certain individuals out at the expense of others.

Lender of last resort shoud not exist.. Discount Window is a moral hazard because that makes bankers and lenders become reckless as they can take more risk

Helps in short run, [but in the] long term contributes to malinvestments and creating buble sensation.
As usual, he talked about his long held intention to legalize the constitution which states that only gold and silver can be legal tender. Read "Central Banking and the Federal Reserve System" to find out how the elites behind the formation and operation of the Federal Reserve System managed to displace this constitutional provision and create for itself the monopoly of printing America's currency. Unfortunately for most of us living outside the US, what's been printed by the Fed happens to be the world's reserve currency.
Another Unprecedented Court Order for the Federal Reserve
Rate this:
Like this:
Be the first to like this.
Most Popular
Archives

16Oct: Jeff Clark (Casey Research)

$2,300 gold by January 2014

05Sep: Bill Murphy (GATA)

$50 silver by year end

13Aug: James Turk (GoldMoney)

We won't see $1580 gold & $27 silver again

12Aug: Bill Murphy's source

We could see a 100% increase in 90 days.

03Aug: HSBC Analysts

Gold to rally above $1,900 by end 2012

05June: David Bond (SilverMiners)

Gold & Silver may bottom at $1,200 & $18

02June: Don Coxe (Coxe Advisors)

Europe to issue Gold-backed Euro Bonds within the next 3 months

21May: Gene Arensberg (GotGoldReport)

Gold and Silver are very close to a bottom, if one has not already been put in last week

>> More forecasts & forecast accuracy


Featured Videos
German Central Bank pledged to the Fed never to buy gold again
George Soros: His role in major world events as agent of the British Empire, as told by LarouchYouth
Daily GOLD US$/oz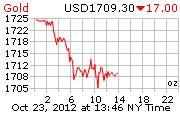 -
Daily SILVER US$/oz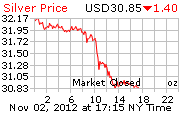 -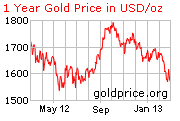 More Gold Charts: 1 Month to 660 Years
-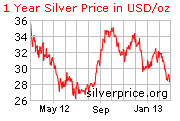 More Silver Charts: 1 Month to 660 Years
-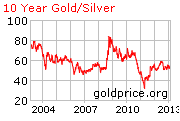 Gold/Silver Ratio: 1 Month to 660 Years
Gold & Silver Priced in BitCoins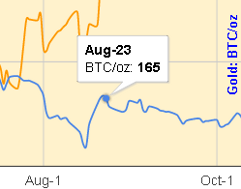 Click to enlarge.
BitCoin donation welcomed.
1NQ4LqE8yL6rfAqikDU8wLhHSm5fntsWxk