Silver Hits All Time High with Volatile Price Action
Spot silver surged to an all-time high of $49.79 per ounce in the international market, surpassing its previous all-time nominal high of $49.45 in 1980. Going into the COMEX, it was taken down to $45.66, did  v-shaped recovery and then to a low of $44.62 during far East trading hours. Within 24 hours, it moved $5.17 or 10.5% off its all-time high.
At the COMEX,
Silver had its biggest volume day in history yesterday…a fact that should surprise no one with the way the price action unfolded. Net of all roll-overs, silver traded 134,000 contracts yesterday…the first time that it has traded more contracts than gold…ever.  Ed Steer
With gold & silver near their all-time highs, silver still in backwardation and the FOMC meeting this week, extreme volatility (in both directions) is to be expected going forward, and holders or potential holders of physical silver will do well to avoid thinking of your silver holdings as an investment.
Volatility & counter-intuitive price actions are the order of the day for any holders of gold & silver. When you see an apparently "unexplainable" price movement in gold or silver, it's when you have to start viewing them as Political Metals to be held and owned rather than Precious Metals to be invested in.  Otherwise, you'll either never get on-board the PMs bandwagon, end up loosing lots of sleep if already on-board, or worse still, doing the unthinkable – sell in a panic during a bull market hoping to buy back lower. >> More
With these extremely volatile moves, it's timely to check out how analysts from both sides of the Political Metals divide are reading into the markets. Read Two Sides of a Coin. 
Rate this:
Like this:
Be the first to like this.
Most Popular
Archives

16Oct: Jeff Clark (Casey Research)

$2,300 gold by January 2014

05Sep: Bill Murphy (GATA)

$50 silver by year end

13Aug: James Turk (GoldMoney)

We won't see $1580 gold & $27 silver again

12Aug: Bill Murphy's source

We could see a 100% increase in 90 days.

03Aug: HSBC Analysts

Gold to rally above $1,900 by end 2012

05June: David Bond (SilverMiners)

Gold & Silver may bottom at $1,200 & $18

02June: Don Coxe (Coxe Advisors)

Europe to issue Gold-backed Euro Bonds within the next 3 months

21May: Gene Arensberg (GotGoldReport)

Gold and Silver are very close to a bottom, if one has not already been put in last week

>> More forecasts & forecast accuracy


Featured Videos
German Central Bank pledged to the Fed never to buy gold again
George Soros: His role in major world events as agent of the British Empire, as told by LarouchYouth
Daily GOLD US$/oz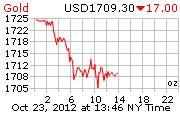 -
Daily SILVER US$/oz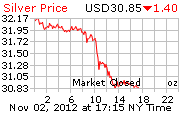 -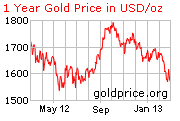 More Gold Charts: 1 Month to 660 Years
-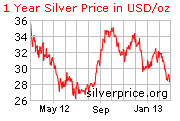 More Silver Charts: 1 Month to 660 Years
-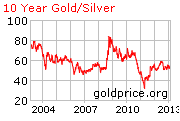 Gold/Silver Ratio: 1 Month to 660 Years
Gold & Silver Priced in BitCoins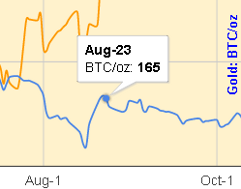 Click to enlarge.
BitCoin donation welcomed.
1NQ4LqE8yL6rfAqikDU8wLhHSm5fntsWxk